osmatranja
Full Moon and Pleiades
Vaši komentari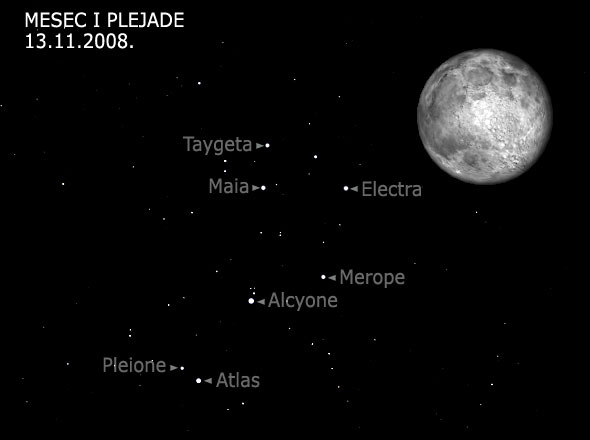 I'm sending information, about interesting phenomenon on November 13.
>> OCCULTATION of Pleiades by Full Moon. <<
The Moon will be good visible during this phenomenon, after evening from 30° to 50° above East (E) horizon...
Because The Moon is very bright on this occultation, I strongly recommend to observation a binocular or/and telescope.
Below is list of main stars of Pleiades, which will be occultated (with orientation time calculated for Beograd):
17 Tau (Electra) - from 8:10pm to 9:05pm
16 Tau (Cealeno) - from 8:15pm to 8:55pm
23 Tau (Merope) - from 8:45pm to 9:25pm
20 Tau (Maia) - from 8:50pm to 9:25pm
Eta Tau (Alcyone) - from 9:10pm to 10:05pm
For comparison: The Full Moon is very bright (-12.9 mag), so Alcyone or Cealeno are shining fainter by about from +3 mag to 5.4 mag. The corresponding difference in brightness are from over 2 million times to almost 21 million times!
For photographing these occultation you have to make a compromise: good exposure of Moon's disc without stars or overlighted Moon's disc and stars - in practice is choosed usually the second way...

Good luck and clear skies!


(11.11.2008.)
---